Rust-Oleum Corporation has again been hit with a class action lawsuit by consumers who claim that its' acrylic deck coating products are defective and prone to failure. The products are marketed as –
Rust-Oleum Restore Deck Start Wood Primer
Restore 2X One Coat Solid Stain
Restore 4X Deck Coat
At issue is the Restore line of products fail to adequately adhere to the underlying surface. As a consequence these products prematurely degrade, chip, peel, flake, strip, and otherwise deteriorate a surface.
Rather than providing years of protection, the Restore Products deteriorate in a short time period. Consumers soon discover that the defective Restore Products require removal and replacement of the product coat in its entirety since it fails to protect the deck itself. Thus, instead of ending the cycle of repainting and replacing, the Restore Products actually hasten it.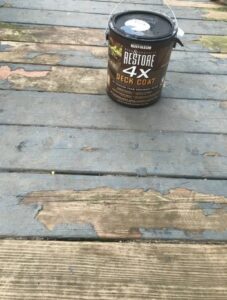 The various product failures experienced by consumers who purchased Restore Products are at odds with Rust-Oleum's marketing representations, including promises and representations it makes regarding product quality and performance directly on the product label.
Rust-Oleum's guarantees, promises, and other representations about its Restore Products induce customers into purchasing the products and lead consumers to believe that the Restore Products are long-lasting and that Rust-Oleum stands behind its advertising representations. For this, Rust-Oleum charges consumers a premium price.
Rust-Oleum knew or should have known of the deficiencies of its Restore Product line and that its marketing label was deceptive. Indeed, this is not the first time Rust-Oleum has been sued regarding the defective nature and inferiority of its Restore brand. Different products marketed and sold by Rust-Oleum under the "Restore" brand were previously the subject of a well-known class action lawsuit that asserted similar allegations regarding product failures of the Restore products. That class action settled in 2016.
If you purchased and used any Rust-Oleum Restore Product you may be eligible for compensation. Contact us and we will review your situation at no cost to you.